One pleasure tourists cannot miss out on when visiting Korea is shopping! To make your shopping experience not only more enjoyable but also easier on your budget, try shopping at a Duty Free or Tax Free shop.
Tax Free System
Korea's Tax Free System can largely be divided into "Duty Free" and "Tax Refund." In Duty Free shops, no tax is applied to the price of the items, including Value Added Tax (VAT) and Individual Consumption Tax. These stores are generally operated by large department store chains, including Lotte, Shilla and Shinsegae among others, and are located in airports and downtown.

In comparison, Tax Refund refers to shops that apply a tax to the items and after purchasing at the full price, tourists can apply for a refund of the taxes paid before leaving the country.

In general, tax refunds can be received by submitting the applicable receipts at the proper tax refund booth when leaving the country. However, from January 1, 2016, tourists can effortlessly receive an immediate tax refund below a certain limit when shopping at certified Tax Free stores. Started at department stores and marts where tourists typically shop, the immediate tax refund system is expanding to all Tax Free shops.

☞ More info on Duty Free Shops
Tax Free Store Shopping Guide
1. Procedure for immediate tax refund when purchasing goods at Tax Free stores
To receive an immediate tax refund on purchases at Tax Free stores, you must present your passport. Eligible purchases must be more than 30,000 won and less than 300,000 won, tax included. The immediate tax refund is limited to a total purchase amount of less than 1,000,000 won for the entire duration of one's trip in Korea.
* Eligible shoppers
Must spend over 30,000 won and leave the country within three months from the purchase date, and meet one of the following qualifications:
- Foreigner (Less than six months in Korea)
- Overseas Korean (Living over two years in a foreign country / less than three months in Korea)
- Not paying Korean taxes
2. Procedure for delayed tax refund after purchasing goods at Tax Free stores
[Step 1] Keep your VAT refund receipts when purchasing items.
Be sure to check that the retail business is a participating store of the certified "Tax Free" brands offering the tax refund service when making your purchases. Shops with the refund service should have signs saying "Tax Free," as well as have "Tax Free" listed on their VAT refund receipts. Starting from 2017, the tax refund limit has increased from 2,000,000 won to 5,000,000 won.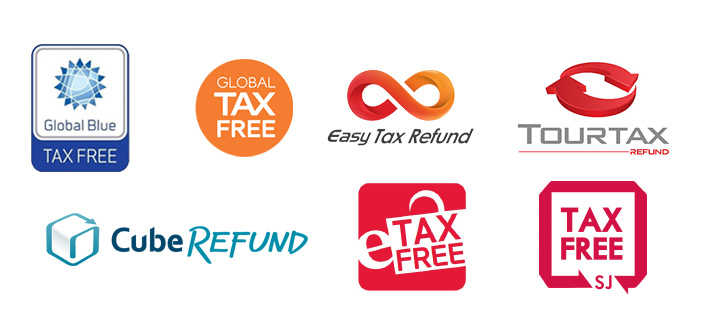 【 Photo: Logos of companies offering tax refund service 】
※ SJ TAXFREE refund services are limited to only MCM and designated brands.
[Step 2] Claim your tax refund at major airports and service branches located nationwide.
1) At Incheon International Airport
①

Get your boarding pass but do not check in your luggage.

②

Show the purchased goods and VAT refund receipts to the customs officer and get the Customs Export Approval stamp on the receipts. For a total refund of less than 75,000 won, you can use the kiosk machine. However, please be aware that the kiosk system is sometimes not available.

③

Proceed to the oversized baggage counter at the check-in area and check-in your luggage.

④

Proceed to a nearby tax refund counter or kiosk machine with your passport and tax refund receipt. Actual cash refund can be received in the Duty Free zone after security inspection and screening.

* Tax Refund Counters
- Public area: 3F Check-in counters D & E in Passenger Terminal 2
- Duty Free zone: 4F Gates 26 & 27 in Passenger Terminal 1 / 3F Gate 253 in Passenger Terminal 2

* Tax Refund Kiosk Machines
- Public area: 3F Check-in counters D & E in Passenger Terminal 2
- Duty Free zone: 3F Concourse near the central pharmacy, 3F Gate 28 & 4F Gate 27 in Passenger Terminal 1 / 3F Gates 250 & 253 in Passenger Terminal 2
TIP) Using the tax refund service at airports/port terminals without service desks or when the service booth is closed: Fill out the tax refund application form then put it into a designated box available on site. The tax refund will be credited back to your international credit card within a period of 1-2 months if your request is successfully made. Be aware that the process is slightly different from the process for applying in person so please confirm the details in advance.
2) At other tax refund booths available outside of airports or ports
Present your purchased goods, VAT refund receipt, passport, and international credit card at the VAT refund booth to get an on-site refund in cash. However, if the tax refundable goods are already endorsed with clearance to carry out, the receipt should be submitted at the customs office or designated refund service desks. Another note to remember is that tax refund booths outside of the airport can only provide refunds offered by their respective company. Only the booths inside the airports and ports can provide total refunds, regardless of company.
TIP) Refunds for Alipay and UnionPay may differ from the aforementioned.
More info

☞ Global Blue: www.globalblue.com (English, Chinese, Russian)
☞ GLOBAL TAX FREE: web.gtfetrs.com (Korean, English, Japanese, Chinese)
☞ Easy Tax Refund: www.easytaxrefund.co.kr (Korean, English, Japanese, Chinese)
☞ CubeRefund: www.cuberefund.com (Korean, English, Japanese, Chinese)
☞ eTAX FREE: www.etax-free.com (Korean only)
☞ SJ TAX FREE: www.sjtaxfree.com (Korean, English, Japanese, Chinese)
☞ Tour Tax Refund: tourtax.helloweb.co.kr (Korean, English, Chinese)
☞ 1330 Korea Travel Hotline: +82-2-1330 (Korean, English, Japanese, Chinese, Russian, Vietnamese, Thai, Malay)
This page was last updated in January 23, 2019, and therefore information may differ from what is presented here. We advise you to check details from the official websites before visiting.